Preparing a deck before staining is not an easy task. It is a long and thorough process but is highly beneficial to preserving its integrity and structure. Taking the time to prepare your deck before staining or sealing it correctly means that you get the job done right and that your deck will look great for years to come. Regardless if you have a new deck or are trying to restain one, in this blog post, we'll share tips on preparing it before beginning your project.
How to clean a deck before staining?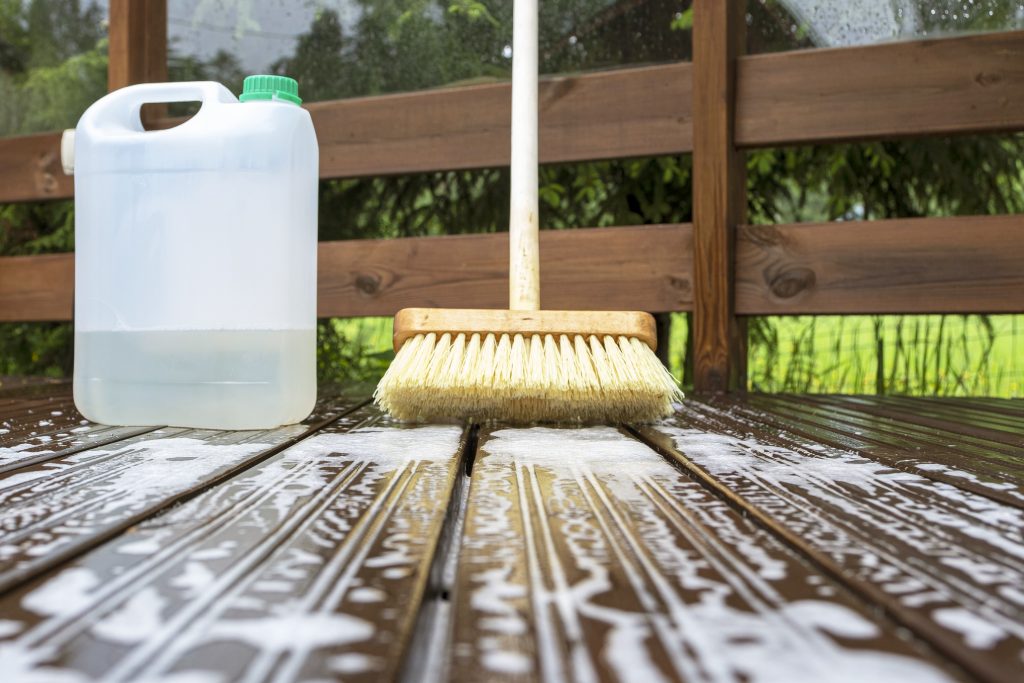 Before doing any work, check the weather to ensure you have clear, dry weather for several days. You also don't want the temperature to be too hot. 
First, remove and put aside your outdoor furniture; remove any loose debris, leaves, sticks, and trash from the surface of your deck. You can do it with a broom or a leaf blower;
Second, make sure to sand down the rough spots on your deck. This will help create a smooth surface for the stain or sealer to adhere to;
Next, it's time to check the wood for any damage: secure any popping nails, treat mold and mildew, and replace any rotten or damaged planks;
Apply your deck cleaner with a paint roller or a brush according to the manufacturer's instructions. Make sure to get a cleaner that removes all dirt and grime. Allow the cleaner to set for 15 minutes, and then work the cleaner into the surface using a stiff brush. Scrub thoroughly to remove all residue;
Now the deck is ready to be rinsed. You can use a garden hose with a good stream or, if available, a power washer. Ensure the power washer follows the wood grain, stays about 12-inches from the surface, and is equipped with a 45-degree tip set at 1200 – 1400 psi. After rinsing, apply the wood brightener. A wood brightener opens up the wood's surface to improve stain penetration and bring out the wood's natural grain;
After giving the deck a final rinse, allow it to dry thoroughly. Usually, it takes 1-2 days before the wood is completely dry and ready for staining. This is a crucial step to ensure your wood absorbs the greatest amount of sealer in a uniform, even coat;
After allowing it to dry completely, you can lightly sand the deck again to remove any remaining splinters or residue. 
Newly installed decks are not recommended to be stained immediately. New smooth decking boards are not porous enough for most stains to penetrate properly. Because the wood is still fresh, allow it to weather for 1-12 months and follow the same cleaning process before staining.
How to apply deck stain properly?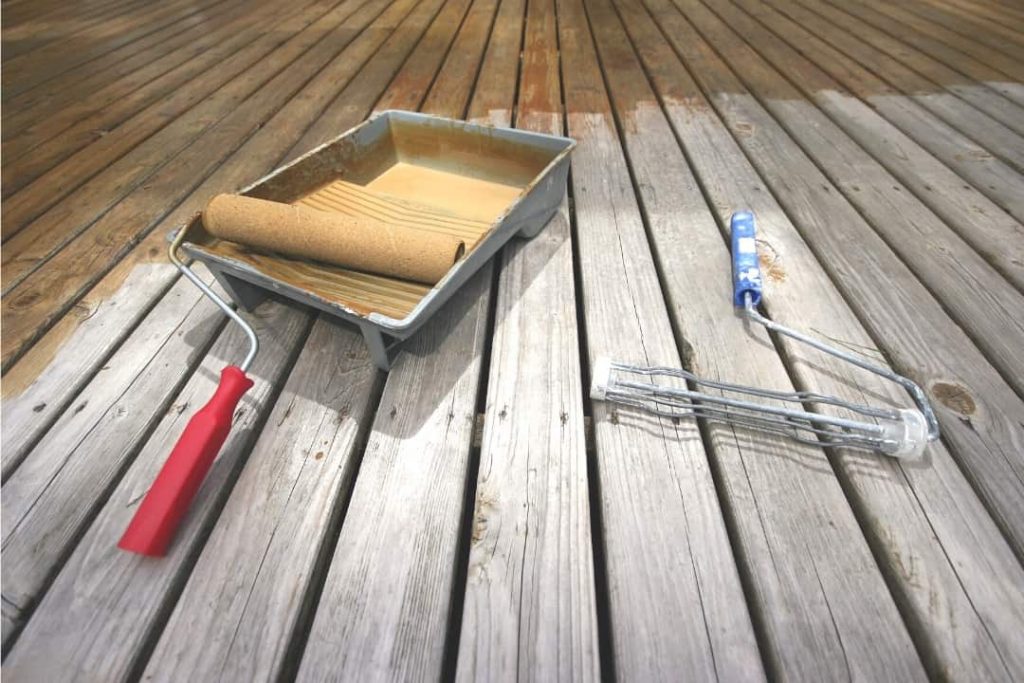 Applying deck stain can be pretty challenging, but all you need are proper tools, simple techniques, and favorable weather. To get the best result from your project, apply stain when the temperatures are between 50°F and 90°F, and avoid staining in direct sunlight if possible. Sun dries out stain quickly and can create uneven color and brush marks. With a paint roller, start staining small sections at a time, go back with a large paintbrush, and, along the wood grain, even out the stain to a natural brushstroke look. Finish applying the stain in hard-to-reach areas using a smaller paintbrush. Make sure you use the same brushstroke technique and let the stain dry for 48 hours before walking on it.
For new decks, one coat of stain is sufficient as fresh wood still isn't very absorbent after the waiting period. If desired, apply a maintenance coat in 12-18 months.
 How to maintain the deck after staining?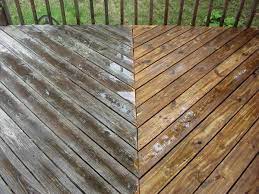 Most decks should be cleaned once or twice yearly because they are subjected to weather and wear and tear. As for the maintenance work, lightly scrub the deck with a mild deck detergent to remove dirt and grime that may have worked its way into the stain. You can use a pressure washer with light to medium pressure without removing any old deck stains. In addition to washing it, regular everyday sweeping will prevent exposure to dirt, leaves, and water accumulation. Regular checkups and inspections of the deck will help you know where it needs refinishing or touch-ups.
How often should I clean my deck?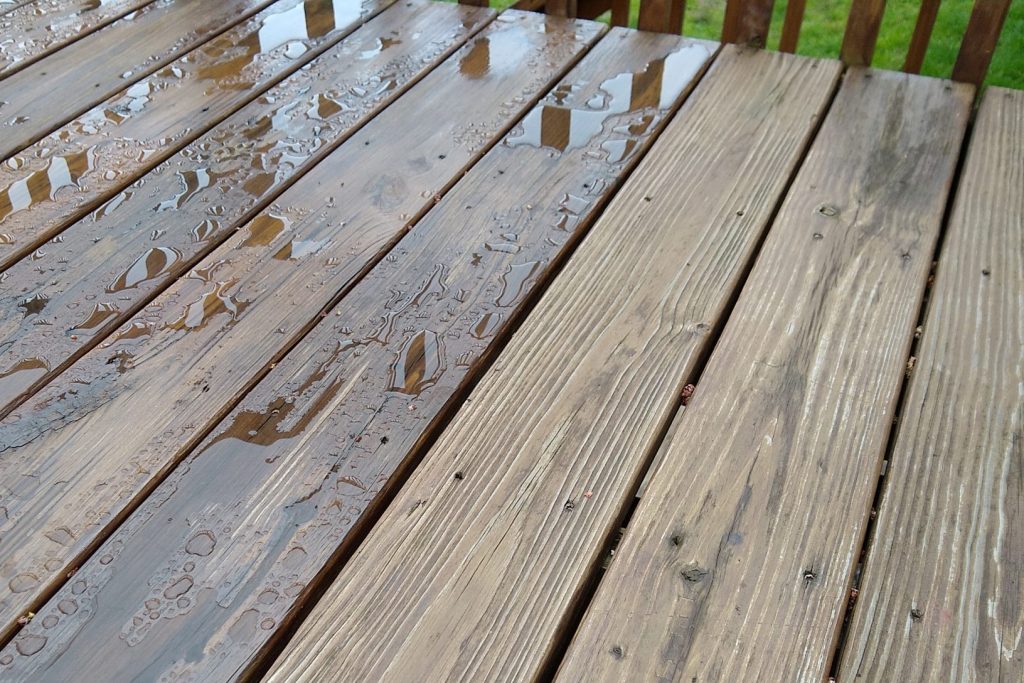 It is recommended to clean your deck at least once a year. However, if it's filthy or you notice any mildew or mold, you may need to clean it more frequently. If your deck is turning gray, it's likely due to the sun and weather exposure. For this issue, you can use the wood brightener to restore the wood's natural color and re-seal the deck with a clear wood sealer. If your deck is very weathered or has warped wood planks, it's best to call a professional. They will provide not only recommendations on how to prevent warping but will also replace and repair any warped or damaged boards.
Conclusion
Restoring your deck or just sealing a newly built one will provide you with the necessary experience to know what you need to maintain your deck over the years. Should you choose to stain the deck yourself or hire a professional team for that task, you will now know the proper and recommended procedures for deck staining. Deck Doc specializes in deck staining, sealing, and repairs. With over two decades of experience and a history of excellent service, we can complete any deck restoring job. Call us for a free estimate, or have your next deck restoration project booked on our website.